BEEP OFF – Florian Merkel and Jasmin Krausch
The Limbic Calculator
filter bubbles with text and RFID-chips on hair, resin and gold
video box with mini computer and screen, gloves, instruction
part of exhibition "1938. Geburtstagsfest mit Gästen"
Sprengel Museum Hannover 2018
german and english description below
>>> see also Beep Off project GIMM 2010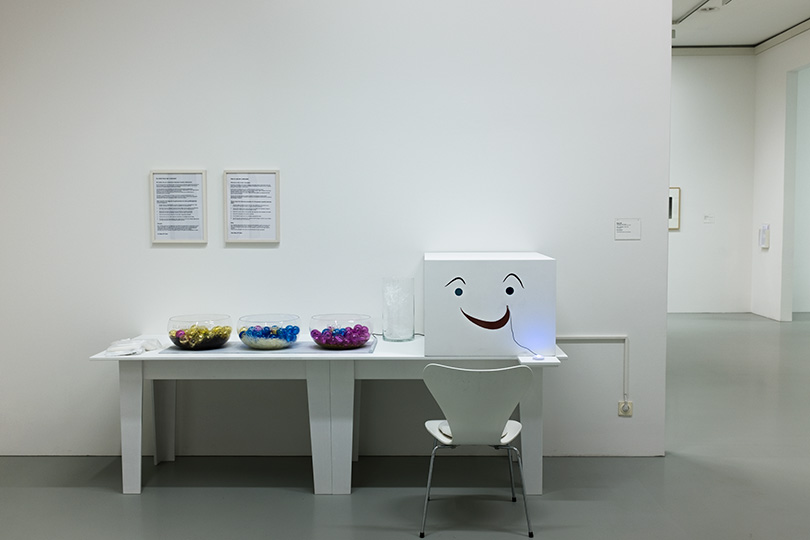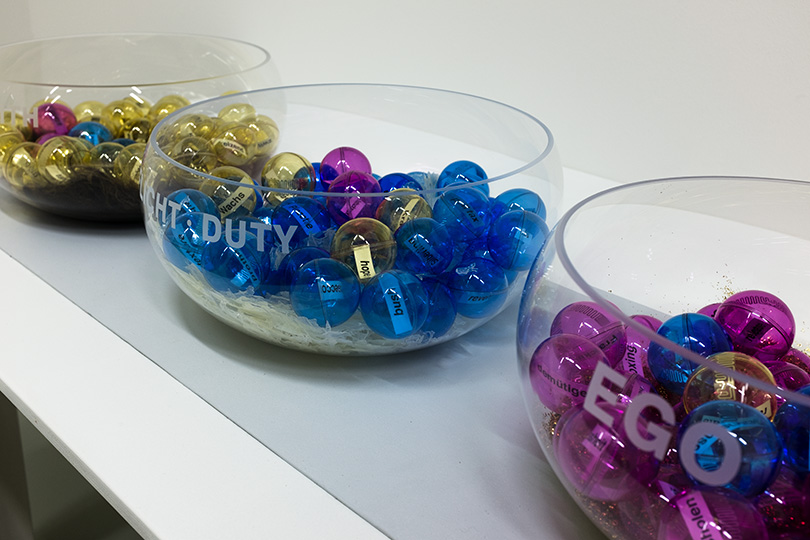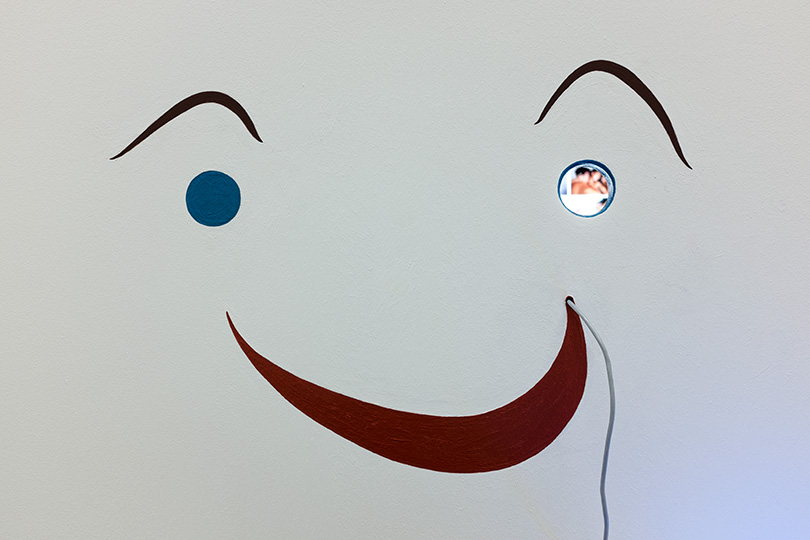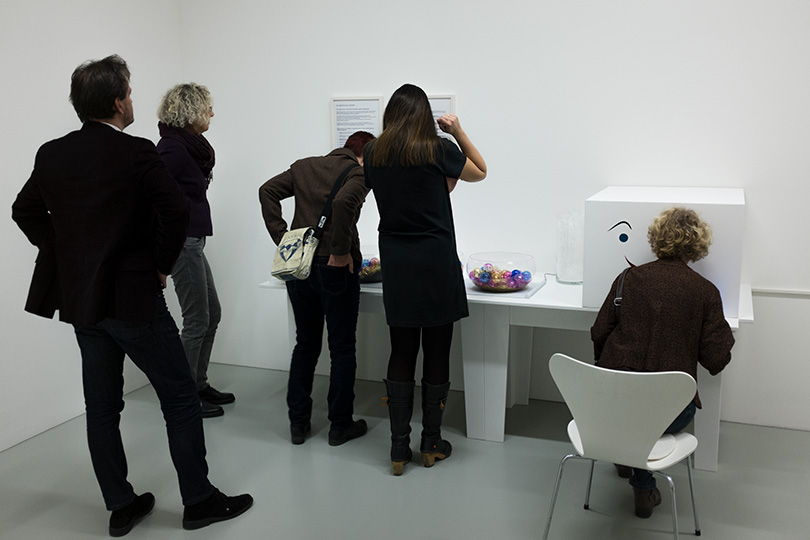 So nützt Ihnen der Limbulator
Wir heißen Sie am Limbischen Kalkulator herzlich willkommen!
Die Vorrichtung wurde nach Erkenntnissen der Forschung am limbischen System des menschlichen Gehirns konzipiert und macht die Dualität von Eigenwahrnehmung und objektiver Verortung des Individuums im gesellschaftlichen Wertekontext erlebbar.
Vor Ihnen befinden sich drei Schalen, die jeweils einen Emotionsraum repräsentieren. Darin befinden sich farbige Filter Bubbles, die verschiedene Trigger-Begriffe in sich tragen und den Schalen von uns ursprünglich limbisch zugeordnet wurden.
Die Schalen stehen auf einem Sensorfeld und die Filter Bubbles sind mit RFID-Chips zur Datenübertragung ausgestattet.
Sie haben nun die Möglichkeit, sich selbst und das Sie umgebende Identifikations- und Affirmationsgefüge zu erkennen, zu hinterfragen und neu zu ordnen, indem Sie das angebotene Bezugssystem überprüfen und gegebenenfalls in Ihrem Sinne ändern.
Bitte beachten Sie folgende Vorgehensweise für einen größtmöglichen Erkenntnisgewinn:
1. Studieren Sie die Trigger-Begriffe und deren Verteilung durch Ihre VorgängerInnen in den Schalen. Überlegen Sie, ob Sie mit dieser Konstellation einverstanden sind.
2. Entnehmen Sie einer beliebigen Schale eine Filter Bubble, die Sie anspricht, und ändern Sie, wenn nötig, deren Einsortierung. Benutzen Sie dazu bitte einen Einweghandschuh.
3. Wiederholen Sie diesen Vorgang, bis sich ein Gefühl der Genugtuung einstellt. Beobachten Sie dabei die jeweiligen farblichen Veränderungen in den Schalen.
4. Werfen Sie den benutzten Handschuh in den dafür vorgesehenen Behälter.
5. Schauen Sie durch das offene Auge des Limbulators und betätigen Sie den Taster.
6. Sie sehen nun einen personalisierten Film. Prägen Sie sich die für Sie erstellten Bilder gut ein und lassen Sie diese auf Ihr zukünftiges Handeln einwirken.
Hinweis:
Der Limbulator gibt Ihnen die Möglichkeit, alte Selbstverortungssysteme zu überwinden und sich neue zu erschließen. Die augenöffnende Funktion des Limbulators kann zu Studienabbrüchen, Scheidungen oder zur Umstellung der Ernährungsgewohnheiten führen. Die Benutzung des Limbulators erfolgt dabei auf Ihr Risiko, Regressforderungen sind nicht möglich.
Wir bitten darum, den Limbulator mit größter Sorgfalt und Hingabe zum Wohlgefallen zu nutzen.
Ihr Beep Off Team
***
How to use the Limbulator
Welcome to the Limbic Calculator!
Designed in accordance with research findings on the limbic system of the human brain, this device makes it possible to experience the duality of subjective perception and one's objective placement in the context of social values.
>In front of you are three bowls, each of which represents an emotional space.
They contain coloured filter bubbles that in turn contain various trigger concepts that we have originally assigned to the bowls on the limbic principle.
The bowls have been placed on a sensor field and the filter bubbles are equipped with RFID chips for data transmission.
You now have the opportunity to recognise, question and re-assign yourself and the identification and affirmation framework around you, by checking the offered frame of reference and changing it if desired.
Please adopt the following procedure for the greatest possible learning effect:
1. Study the trigger concepts and how they have been distributed in the bowls by your predecessors. Think about whether you agree with this constellation.
2. Take any filter bubble of your choice from any of the bowls and if necessary change its classification. Please use the disposable glove for this.
3. Repeat this process until you feel satisfied. Take note of the colour changes in the bowls.
4. Discard the used glove in the container provided.
5. Look through the open eye of the Limbulator and press the button.
6. You will now see a personalised film. Memorise well the images created for you and allow them to influence your future behaviour.
Note:
The Limbulator gives you the chance to reject old self-localisation systems and acquire new ones. The eye-opening function of the Limbulator can result in dropping out of university, divorces and changes in eating habits. Use the Limbulator at your own risk; legal redress is excluded.
Please use the Limbulator with extreme care and devotion for your amusement.
Your Beep Off Team